Beckwith Electronics

Hamburg, Illinois 62045
(618) 232-1139
(618) 232-1172 fax

Power Dynamics, Inc.
IEC Connectors
Power Entry Modules

Power Cords

Battery Holders
USB / 1394 Connectors & Cables
Smart Card Connectors
D-Sub Connectors
Pin Headers / Recptacles
Power Pin Connectors
Telephone Jacks & Plugs
Mini DIN Connectors
DIN Connectors
Harsh Environment Series
up to 25 Amps
IP67 / IP69K
Harsh Environment Series
up to 2 Amps
IP67 Unmated
Bayonet Lock
SCSI Connectors
Centronics Connectors
RCA / SCART Connectors
Plugs for PortabilityTM
DC Power Jacks
Collet Knobs & Accessories

A WORLDWIDE SUPPLIER OF INTERCONNECT PRODUCTS
The catalog offers a comprehensive range of interconnect products which are designed and manufactured to meet the applications requirements of Original Equipment Manufacturers worldwide.
SERVING THE ELECTRONICS MARKETPLACE
The industries we serve include computers and computer peripheral equipment, telecommunications, power supplies, medical electronics, automotive, instrumentation, consumer and commercial appliances, home entertainment products, business equipment and data communications.
GLOBAL SALES & DISTRIBUTION NETWORK
Power Dynamics supports its customers through a worldwide network of factory-trained engineers, manufacturers' representatives and authorized stocking distributors. Products offered in the catalog are normally available off-the-shelf from our authorized distributors, who are also supported by an in-depth factory inventory.
LIBERAL SAMPLING POLICY
Requests for samples of any catalog item are available for engineering evaluation Free of Charge. Sample requests are serviced by calling (618) 232-1139.
ENGINEERING SERVICES
Power Dynamics offers advanced engineering, CAD and tooling capabilities to modify or customize interconnect products to meet specific customer requirements. In most cases our design group can take a project from concept to prototype within a matter of weeks.
QUALITY CONTROL
Power Dynamics is an ISO 9002 registered firm. All quality control procedures are fully documented and available for review.
SAFETY AGENCY TESTING
All Power Dynamics' components are designed, manufactured and tested in compliance with the standards and requirements of international safety testing agencies. Products offered in the catalog are certified as required by the international safety testing agencies listed here. Safety agency certification reports are on file at Power Dynamics. Copies are available upon request.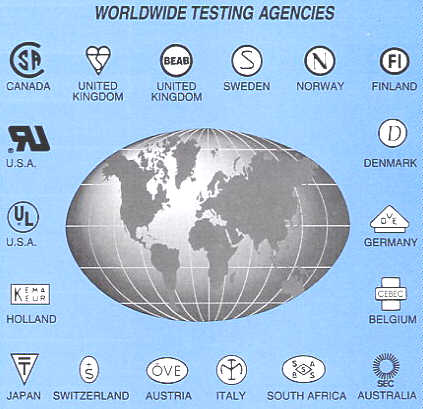 All information contained herein including illustrations, specifications and dimensions is believed to be reliable as of the date of publication, but the accuracy or completeness thereof is not guaranteed. Power Dynamics, Inc., makes no claim or warranties as to the applications of these products or their suitability or fitness for any particular purposes. Neither seller nor manufacturer shall be liable for any injury or damages resulting from the use or inability to use product. Accordingly, it is recommended that each user independently test and evaluate products for their intended use and the user assumes all risks and liability whatsoever in connection therewith. ©2000. All Rights Reserved.